I first saw this story on the
Ace Of Spades
blog, posted with this comment -
Twitter #CancelMobs responded in two predictable ways:

1, denying that there is any such thing as #CancelCulture.

2, demanding that Rowan Atkinson be #Cancelled for talking about #CancelCulture.

Logic and consistency and the rules of reasoned discourse are oppressive tools of the white patriarchy so SJWs are not bound by them.
I also thot of the movie scene where Bean flipped the bird -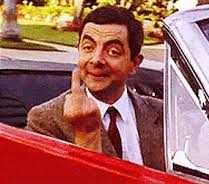 FU Cancel Culturists!!
.
.
"Mr Bean" Star Rowan Atkinson:


"'Cancel Culture' Is Like A Medieval Mob Looking For Someone To Burn"