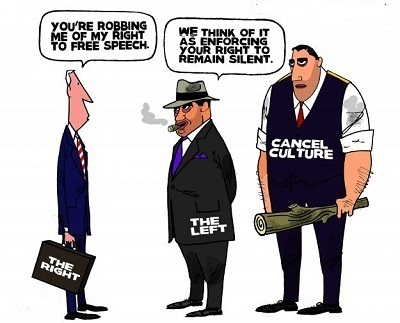 No More Hugs

For The Left's Corporate Thugs
Edited & Excerpted
from
Kurt Schlichter's Town Hall Article
:
Old habits die hard, and it's time the GOP's habitual support of big business to die, and die hard. Look around – the corporations have decided it's a great time to use their power against us. And it's no coincidence the political positions they have taken conform exactly to those of the Democrat Party. So, the hell with them.
What's hilarious is how they still expect us to go to bat for them against the left, just like before. It doesn't work that way. Relationships are about give and take, and we've given our support to the big companies when it comes to taxes, regulations, and the like. But what have we taken? A lot of crap from woke jerks.
This change has been coming for a while. We need to understand the nature of the old Republican/big business relationship to see what happened. The companies were never with us culturally – they wanted fewer regs, lower taxes, open borders, and docile workers. They didn't care about social issues. They stayed out of it.
There used to be a kind of gentleman's agreement – they stay out of our business and we stay out of theirs. But they broke that agreement. They decided to go all in in favor of the liberal establishment because that's who the multinational bigwigs are, and always have been. It's always about class, and the class these robber barons circulate within looks down on regular Americans.
Hence the current virtue signaling, where you have airlines and shaving cream companies telling us we're racist. It's all about the execs making sure everyone knows whose side they are on, so the message to their brethren and sisteren and otherkin is, "Hey, we're not like those people. Not at all."
It's not even just the lectures about how we are all the -ists and all the -phobes. Corporations have fought for open borders, sent jobs overseas and killed small businesses at home by leveraging government to favor Walmarts and Costcos over mom and pops. Why do you think your little shop (not to mention your church) had to close because of Covid, but the big boxes were wide open and packed?
Big business not only funds Democrats, it funds their outside commie agitators, like BLM. Even the Chamber of Commerce went full on liberal last time, firing the last Republicans left on its staff. Yet now the Chamber of Communism is making little whiny noises about the huge taxes the Democrats are planning. And big business is going to turn to us to once again help it stop the bloodbath.
They are not our friends. They are not even our allies. They are the enemy, and until now they have successfully used the GOP as their defense against the Democrats even as they clink Chardonnay glasses with the libs on Park Avenue.
There is no valid conservative principle that requires you to be less free. But trashing our rights is what woke corporations using their power against us as Democrat catspaws do. It needs to be greeted with a middle finger.
Now, this is where the "principles" thing comes up. Apparently, some alleged principle out there requires us, as true conservatives, to be corporate shills with no ROI for all eternity. We could do that, or we could not get shafted by ingrates who hate us.
I like the principle of not getting shafted by ingrates who hate us better. They want to play politics? Well, dudes, here's politics. Good and hard. Here's my deal, take it or leave it, no negotiation, final, best offer: I will care about their property rights exactly as much as they care about our civil rights. And that should scare the hell out of them.