Moderator: Super Moderators
---
---
---
---
---
---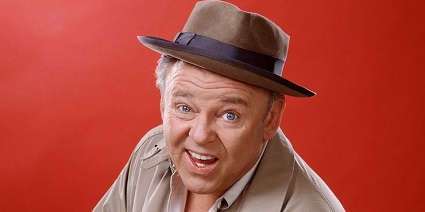 No one wrecks words quite like Archie Bunker. After going through the vigorous Bunker brain rinse cycle, what comes out is a faint reference to the actual word, yet used in just the right place in the conversation. Here's some of the best English-mangling Archie Bunkerisms.
Arguing with Mike, Archie says "That's
irreverent
to the conversation." Mike corrects him 'irrelevant" & Archie says "What ever, it's not
German
to the conversation."
"I'll tell you the
basical
problem with your drop outs today is that they ain't got no gratitude. What they got here is the greatest country in the world, the highest standard of living and the
grossest
national product."
"Back in my day we learned to keep things in their proper
suspective
."
Mike says, "It's just pelvic construction, women are built differently" & Archie answers, "Oh please don't draw me no
diaphragms
."
"It's a well known fact that capital punishment is a
detergent
to crime!"
Archie asks, "What's that smell?" - Gloria tells him her friend Robin is burning incense Archie says "It smells like a house of
ill–refute
."
"They want people like your mother on the jury because they know she doesn't have any
pre-conscrewed
ideas."
"There's wide open sex all over the place, but that's okay that's just your
submissive
society!"
"It ain't enough that he's a pinko and an Atheist, you're gonna turn him from a man into a
morphadite
." "What's a Morphadite?" Gloria asks, & Archie's insight comes spilling forth… "A freak with a little bit of each… and not enough of neither!"
"I wanna tell you somethin' I got no respect for a guy that's spends his whole life gettin' cheap thrills out of other people's
nuditity
."
"Listen, nobody gets arrested in this country unless they deserve it. If he don't go callin' cops pigs or another of them
epaulets
, he'll be alright."
Edith: "Archie, please let him come back in, he's really a very nice boy." Archie- "Nice boy! What'da mean nice boy. After he done what he done. Comin' in here and making
suppository
remarks about his country!"
"Certainly that's the way it was for a long time. One religion til they started splittin' off into all them other
denumerations
there. Your Catholics, your
Perspiterians
."
Gloria: "You're acting like Scrooge." Archie- "Ah, don't Scrooge me, I'm the only one around here that understands the true and solemn meaning of Christmas. It's a time for peace and quiet
contemtation
."
Archie giving Edith a command-"Get on the phone and call the lodge and confirm that the Bunkers is goin' on a trip to Florida as
prederanged
."
"You never believe nuttin', Edith. You're one of them
septics
."
"Now hear this, all of yous: It's a very serious problem we got here that's gonna take all my thinking and all of my
consecration
."
Neighbor Irene Lorenzo wants to cut the party cake & Archie says, "Hold your horses, Irene. Like the Good Book says,'Patience is a
virgin
.'"
"This is a Jewish cake! They give this to a Jewish kid before he gets
circumscribed
."
"The Bible, if ya read it you'd know. It's right in the beginning there, in the Book of
Generous
."
Edith: "You've been to lots of funerals." Archie- "I know, I know, Edith, but I ain't never delivered a
urology
."
---
---
While it never seemed that way, Moe was the real punching bag for the Three Stooges. Enjoy


---
Pirate
Posts: 2590
Joined: 11-26-2015 03:51 PM
Location: SW IN
Contact:
@ $100 per show or per week, I'm not sure. I think that each
punch, jab, slap, strange substance like paint, glue, and tool abuses should have made them waaay more $! All Stooges made their production company millions off their combined comedic genious!
MK II ∆=
"JERRY!"
.......all wasteful, climate changing wars. Begun again by the Red Blooded Royals, or by a bewitching God-like dictator, or any so called religion, or for any other reasons like a world wide virus pandemic! MK II 4/26/15
---