Moderator: Super Moderators
...

In Your

HOUSE

??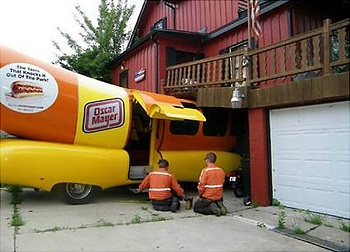 Driver Loses Control, Crashes Wienermobile Into Racine Home
There are none so asleep & oblivious to the real world as those who are & would be Woken.
"
Inside every progressive is a totalitarian screaming to get out.
" - David Horowitz
---
Pirate
Posts: 2305
Joined: 11-26-2015 03:51 PM
Location: SW IN
Contact:
"Whoa weiner!" was not yelled just before crashing apparently.
Riddick surely the lady driver will now get the nickname of "Hot Dog"!
MK II ∆=
.......all wasteful, climate changing wars. Begun again by the Red Blooded Royals, or by a bewitching God-like dictator, or any so called religion, or for any other reasons like a world wide virus pandemic! MK II 4/26/15
---