Moderator: Super Moderators
I'm with them!
https://sp.rmbl.ws/s8/2/P/h/E/D/PhEDf.c ... =5o49d&b=0
Bet they didn't have to pay any one to go to the Rally!
KARMA RULES

Those Who Can Make You Believe Absurdities, Can Make You Commit Atrocities': Voltaire
---
I bet there's folks who would've paid to get in. Trump's a hot ticket for sure!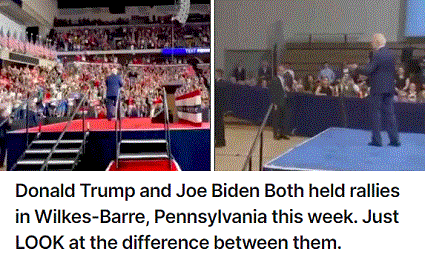 By comparison
,
if
folks were being paid to go to Dementia Joe's rally, funny there were so few takers. $10-20K in student loan forgiveness & folks can't show some gratitude? Guess too much in taxpayer funded giveaways is never enough.
"Everything Woke
turns to

" -
Donald J. Trump
---
"We are a nation that has lost its way…but we will soon be a great nation again," Trump declared. "It was hard-working patriots like you who built this country and it's hard-working patriots like you, who are going to save our country. We will stand up to the radical left lunatics and RINOS and we will fight for America like no one has ever fought before. So with the help of everyone here today and citizens all across our land, we will make America…great again," he stated.
FULL STORY
"Everything Woke
turns to

" -
Donald J. Trump
---