Source:
https://historyofwrestling.com/the-crusher/
Arguably, the overall biggest-drawing performer in the history of the AWA and one of the most famous wrestlers of his time, never more was the appeal of The Crusher's unique combination of violence and humor apparent than when facing off against Jesse "The Body" Ventura.
Often the egotistical Ventura took time away from the start of his matches to do an elaborate posing routine, which didn't sit too well with the no-frills Crusher. Before one of their matches, The Crusher interrupted Ventura's routine and challenged "The Body" to a posing contest, with the fans deciding who the winner would be.
Raising the stakes even higher, stipulations were added; if Ventura won, The Crusher would have to pierce his ears and wear earrings while if Ventura lost, he would have to smoke one of The Crusher's cigars. Taking his posing very seriously, the arrogant muscleman quickly agreed to The Crusher's challenge.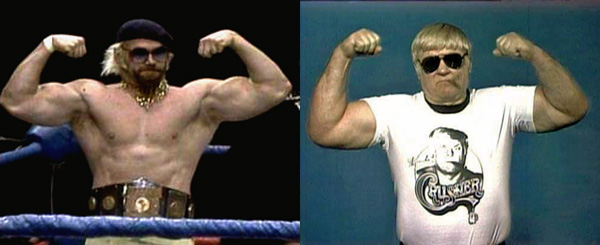 With his ego and reputation on the line, "The Body" painstakingly performed a highly choreographed series of bodybuilding poses, but still received an overwhelmingly negative reaction from the crowd. The cigar-chewing Crusher, on the other hand, merely had to raise his two (beer) barrel-sized arms into the air and flex, and the crowd exploded with enthusiastic cheers.
When The Crusher was announced as the winner, Ventura's massive ego was severely bruised and following the loss, the enraged bodybuilder lit a cigar and reluctantly began puffing. But, as "The Wrestler Who Made Milwaukee Famous" soaked in the adulation of the crowd, the humiliated Ventura snapped and proceeded to jam the lit stogie into the popular veteran's eye.
The dramatic moment appalled and angered fans, which seemed to please Ventura even more, and in the weeks following he proudly proclaimed himself to be the man who finally ended the legend, and career, of the mighty Crusher.
However, after taking some time away to "recuperate," the aging-but-still-dangerous vet returned with a vengeance, exacting his violent revenge on Ventura in AWA cities from Chicago to San Francisco and all points in between.