If there are 10 people gathered around your Thanksgiving table, odds are good that at least three of them really don't want your famous cranberry sauce. And nearly a quarter of them would rather not save room for any pumpkin pie.
FULL STORY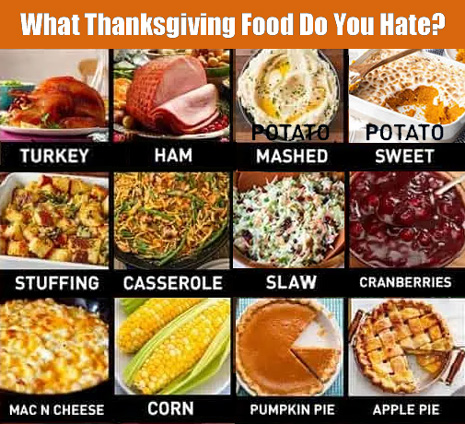 I'm not crazy about corn, cranberries, sweet potatoes or slaw. Sweet potatoes with marshmallows are a little more palatable than without. Cranberries are slightly more enticing if they're unjellied. I'll take creamed corn over not & slaw I can take or leave.
I'll try some of any of 'em but definitely no seconds on cranberries or sweet potatoes. OTOH for sure I'll have extra helpings of turkey or ham, mashed potatoes, stuffing, and green bean casserole! Same for slaw if it has bacon, mac & cheese if it's extra cheesy
Comes to dessert I prefer pumpkin pie over apple. But it only applies at Thanksgiving.